When it comes to doing mobile design right for mobile products and applications, few are as qualified to answer questions than our CEO, Artem Petrov, and our Head of UI/UX Design, Michael Mahmood. They've led Reinvently to become one of San Francisco's top 15 mobile development agencies according to Clutch and one of CIOReview's Top 20 most promising mobile developers of 2018. That's no small feat considering there are over 160 mobile agencies in Silicon Valley.
Our interview here takes aim at doing mobile design right – and as you'll see that involves a lot more than constructing wireframes and great graphics.  Artem's and Michael's profiles can be found at the bottom – feel free to connect with both of them on LinkedIn!
Reinvently's First Creative Process
To start off, one thing that attracted me to Reinvently was its name. A name can say a lot, or even nothing about a company, but Reinvently evokes an image of a very creative and innovative company. Can you tell us how you came about the name?
Artem: We were looking for a name that combined our creative capacity and smart, result-driven approach to mobile products. The process took a few months. Everyone in the company was encouraged to submit their idea. There were a lot of good names and some zany ones, too. But, everyone voted and Reinvently came out as the clear winner. It really captures what we do in developing and designing smart mobile products. Mobile technologies frequently reinvent the way people do things and sometimes how entire companies do things.
Great Design is Fundamental
For the non-designers out there, could you tell us why design is important and go into some of the specific components?
Michael: Design is important because it's all around us. Successful companies and products, almost always have great design. Design has been proven to improve a company's ROI, thus many of the tech giants are all competing to hire the best designers in the world.
Artem: When it comes to mobile apps, great design is the cornerstone of your product. If the design is bad and not intuitive, the feature set of your product doesn't matter. Seriously, like most apps are abandoned by 80% of users – if not after their first use, within the first week.  We see this a lot in the mobile apps our customers have asked us to examine and fix.  The technical implementation is usually good enough and it is the design that really needs improving.  
Design and Return on Investment
The value proposition of design, as related in one of Reinvently's blog articles, is that every $1 invested in mobile design should have a return of $10 to $100. Is this a realistic expectation? What other value points do you think might be overlooked apart from the sheer dollar value?
Artem: Products with bad design fail more often than products with good design. The more you invest in research, understanding your users, user testing and of course, the design team itself, the better your final result will be. As the product owner, you are also likely to see a better result if you stay involved with the design process. Honestly caring about your product will fare much better than simply getting it done.
The 10-100x ROI for every $1 spent on UI/UX is not a rule by any means. It is absolutely possible, though. Very high ROI is easily possible with enterprise applications having a large user base. Just improving a single metric by 1% can have a huge dollar-value impact. One goal of our Continuous Product Development approach at Reinvently is to string several statistical improvements together, steadily and incrementally, over several releases. Basically, everything that goes into e-commerce factors into mobile applications, too.
Doing Mobile Design Right with Metrics and Testing
How do you test design? What metrics are involved and what do they tell the owner of the app?
Artem: All product metrics depend at least in part but very directly on design. Mobile design strives for simple, goal-focused functionality: it's not just about building a beautiful product. Again, if people find your app unintuitive or hard to use, they'll most likely not bother to use it.
Design plays a part in nearly all metrics, from Customer Lifetime Value (CLTV) and frequency of use to in-app purchases, social sharing, customer retention, attrition, and more. If a specific metric performs poorly, presuming the app is not technically defective, almost by default it is a design issue. Changes in mobile design, layout, copy, color, use of animations and transitions, possibly even gamification elements can all help to significantly improve performance. In one case, just changing to a more authoritative voice and tone increased conversions by 20%.  That helped because some users were hesitating to register and wanted to be told what to do.
Michael: There's a lot involved in mobile design. Actually, I'd like to go back to what Artem noted in relation to design and ROI. Your investment in research and understanding your customers plays a vital role – we utilize this information to construct customer personas and use cases. Which features of your app will your users use most? One goal then is to make it very easy and intuitive on how to use those functions – and especially to minimize the number of taps, clicks, swipes or other interactions to access and complete those functions.
But, there's a long list (Your Complete Mobile UX Checklist) of items to go through. Two often overlooked ones include letting users know what they did wrong, and rapid confirmation of user actions so they know their action was successful. There are qualitative and quantitative research studies to learn everything from people's reactions and emotional responses to usability tests to score how many people are able to complete a series of tasks. Actually, we recently addressed in detail the testing and evaluation of mobile apps in the Mobile Product Evaluation Workshop. For those questioning their app's performance, that's definitely worth checking out.
Mobile Misconceptions
What do you find or hear from customers as their greatest concerns or misconceptions about mobile app design?
Michael: Trying to do too much too soon. In order to really create a compelling mobile experience, a great deal of effort is needed with research, iterating designs, refining the content, etc. Some customers want to start out with a full-featured release with all the bells and whistles, and that's usually not the best approach. It's better to scale back and create a core experience which has clarity and provides real value to the users. Once this foundation is set, then the idea can expand in other directions.
Artem: I agree with Michael. The main thing that many customers don't really get is that the mobile design process involves much more than just creating a visual wireframe or mockup in Photoshop or Sketch. So you should be patient, iterative and involved. And don't be shocked – good design is not cheap!
Starting with Minimum Viable Product
And, how does Reinvently resolve or address customer misconceptions? What turns nervous customers into repeat and continuous customers?
Michael: So, there are really two very important points we do our absolute best to help customers understand.
The first focuses on starting with a Minimum Viable Product (MVP). An MVP starts out with a streamlined version that focuses on the feature set your customers will "Love to Use" while also maximizing your user feedback. Advantages include lower development costs for the first release, faster time to market, and faster monetization potential.  It also enables collecting more data earlier to define improvements and new features. I'd say almost all customers find the MVP-style launch a lot more to their liking.
Launching an app is not the end game, it's just the beginning. The second point then is to do Continuous Product Development (CPD). With mobile devices, it's easy to see how CPD works. There was the original iPhone, iPhone 3, 4, 5, 6, 7, 8 and most recently the iPhone X.  Each attempted to be better, have more features and functionality than the last. The same applies to mobile applications. Where we use user data from your MVP to define what and how to improve the main product metrics, and what features users would like to see most.
One advantage of both approaches is to avoid spending cost and time developing features users don't want or are not likely to use. Another major advantage of Continuous Product Development is that customers can depend upon us to manage the entire product development roadmap for their application as a partnering solution. This is an ideal arrangement for non-technically oriented businesses and those lacking internal development teams.
Artem: Good points, Michael – really, we spend a lot of time educating our customers, explaining different tools and techniques and making sure they understand their options. The mobile design process itself is not difficult to explain because the biggest part of it is visual. So, you don't need to be design-savvy to understand it. The design process itself is highly structured and quite logical if you take the time to go through the checklist. But, understanding how mobile design and development must fit together with analytics, analysis, and continuous improvement is key to helping customers get the most out of their mobile product investment.
Clients – Enterprise, SMB's and Startups
Reinvently's picked up an impressive portfolio of clients, including some very interesting startups like Looksery and Swiftmile, along with enterprises like Men's Warehouse and Gracenote. Maybe you could talk about how Reinvently's been a good fit for each business segment – enterprise, mid-size companies, and startups?
Artem: We adjust our approach for customers of different sizes and decision-making processes.
When we work with an early stage startup, they want very close collaboration with their designer. Sometimes startups want to skip user research, presuming they already know their target market and wanting to save time, money or both. Often, startups form their product during the design phase. These are all points that we address in our first discovery meetings with every prospective client. A great app cannot be made without knowing who it will serve, why they will use it, what it will do, what metrics it will need to track, and so forth.
When it comes to MVPs, company size doesn't really matter. Even for enterprises, their very first release is quite likely to be an MVP. They, just like startups, need to understand a product's traction to decide if they wish to invest in it. However, enterprises usually can afford to make more mistakes and more significant changes to their product strategy than startups.
Enterprises, on the other hand, may have a much more complex decision-making process. Sometimes, enterprises already have a service up and running.  They've even created an app for it. For any of a number of reasons, their app may not be performing to their expectations. So, they come to us to determine why and what we can do to help them. In these cases, they have much, much more initial data that we can work with compared to those building their product from scratch.
Each customer is unique so it means that we take a lot of time to learn what is important to each. It really is the combination of the expertise they have in their business and our expertise in mobile technologies that makes superior mobile products.
Michael: For inclusiveness, many businesses that cannot afford a native mobile app still have options. First and foremost, a great responsive, mobile-friendly website is cheaper to build. The mobile web view can be one way where smaller businesses can still reach their mobile audience.
Smaller businesses can also look at partnering with other businesses that have an app, just as they might engage Amazon as a third-party seller or offer their merchandise on consignment to brick-and-mortar shops. And of course, being a service provider for an On-Demand company is an option, as On-Demand is penetrating nearly every service-oriented niche.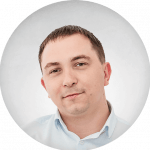 Artem Petrov is the CEO, strategist, and evangelist of Reinvently. Artem and his handpicked team of designers and engineers have helped over 150 US/EU brands devise insightful mobile strategies and applications. Artem's specializations are in Data and UX Design, in extension of his Master's Degree in IT and Applied Mathematics.
Connect with Artem on LinkedIn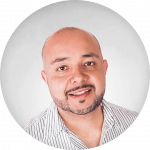 Michael Mahmood is Reinvently's Head of User Experience. He has over 25 years of experience crafting rich B2B and B2C user experiences for both start-ups and Fortune 100 companies. He has led multidisciplinary teams at both Intuit and LinkedIn to launch several successful products impacting millions of users worldwide and generated hundreds of millions in revenue. A strategic design thinker, he has hands-on technical skills and expertise in branding, interaction design, visual design, and motion design across all platforms. Michael graduated with a BFA in Design & Technology from Parsons School of Design, NYC, in 2004.
Connect with Michael on LinkedIn
Recommended Reading: