There are nearly 2.8M apps in Apple AppStore and Google PlayMarket. How to build a great one and get app funding? How to make your mobile app more appealing to investors than the other 2,800,000? How to become a successful appreneur and raise money for growth?
Spoiler alert: There will be lots of big sums, some ideas to adopt and, of course, shattered dreams about being paid for the creativity itself.
Getting app funding: where to start?
It's nice to have an idea and you can get a bill for with nothing but a concept. All you need is to be the best of the best. There are a number of app developer contests that provide an opportunity to win money to develop build a team and a mobile app product. Interested? Check out App Idea Awards. However, contests need something more than a simple idea.
We know you'd ask, so here's a list of the top crowdfunding websites for your project:
Kickstarter
Indiegogo
RocketHub
FundRazr
GoGetFunding
Crowdfunder
Pitch Me, I'm Fabulous
You can see dozens of pitches with 2 to 25 views on YouTube, as well as poorly funded applications on Kickstarter. That's evidence that a crowd doesn't make a deal. Making things public may be the first step in giving birth to your soon-to-be-funded mobile app, but it certainly won't be the last step. Before applying for funding, you have to spend much time stating good points of your product.
Pitch decks used to be largely popular a while ago, but things changed. Today concepts are materialized in videos or landing pages. Just in case you choose a video pitch, keep in mind that 30 to 65 seconds is enough. The less is more.
Advice like "providing working app demo" are obviously obvious. Besides, that appreneurs are recommended to:
Depict a problem;
State app's promise;
Tell about perspectives;
Introduce a team (real team, not members who are going to join a project);
Show competition;
Ask for funds.
Asking is the naughtiest point, but that's the goal. The exact amount is the best option. And, please, don't offer excuses like "Funds will be spent on … and … , as well as…" All further details, including spending, are provided on demand.
Hand-picked inspiration for funding the heck out of your app:
You'll be talking and pitching to VCs a lot, so here's a great video tutorial to that from the rapid-fire TED U talk by business pitch expert David S. Rose.
Also, make sure to check out these pitches by other startups to avoid their mistakes and take the good stuff.
How To Get App Funding?
That's a long way with rises and falls. It may take 6 to 30 months to get a check. Don't get too disappointed if you don't manage to beat Snapchat and Twitter and earn $7.5B in a week.
#1 Ask Yourself
It's not a bad idea to invest in your own app. Building beta under own steam is a way to make an app more expensive afterward. Then be ready to the second step.
#2 Look For Opportunities
Financial advisors say that there're lots of startups that apply for funds too early (see Stages of Investment). That results in refusals and lack of motivation. You'd better begin with grant programs provided by the government, educational or private organizations.
Real life example: Before raising $1M in seed, the famous time tracking app, Timely, got $100K as a grant.
Contests of pitches also come in handy for those who are eager to stay afloat. Usually, those competitions don't provide large prizes, except for the development of the stable startup. Appreneurs may get from $1,000 to $100,000.
At the same time, it makes sense to participate in app contests to attract prospective investors and introduce your creation to the wider public. Awards can make out $4,000-$150,000 and there is more as many venture capital funds are partners of such events. Also, note that no equity is usually taken in exchange.
#3 Let's Accelerate
All in all, there are more than 150 accelerators acting in the US. AngelPad, The Alchemist Accelerator, StartX, Amplify are among the best. Don't expect to be invested with sheer money; however, be ready for some useful fundraising skills, a cash stipend, and mentorship. Programs often range from 3 to 12 month. Usually, mobile apps aren't goals of accelerators, but the great idea will be funded.
Time To Raise
Let's look at stages of investment and parties involved. Starting a project it's better to look for accelerator (especially, when you need a team) or angel investor (if you're confident in your fellows). Try not to apply for venture capital at this time. It'll help you later. And don't blame yourself for having a goal to sell your creation. Apps like Path, Fitness Keeper, and many others changed their owners.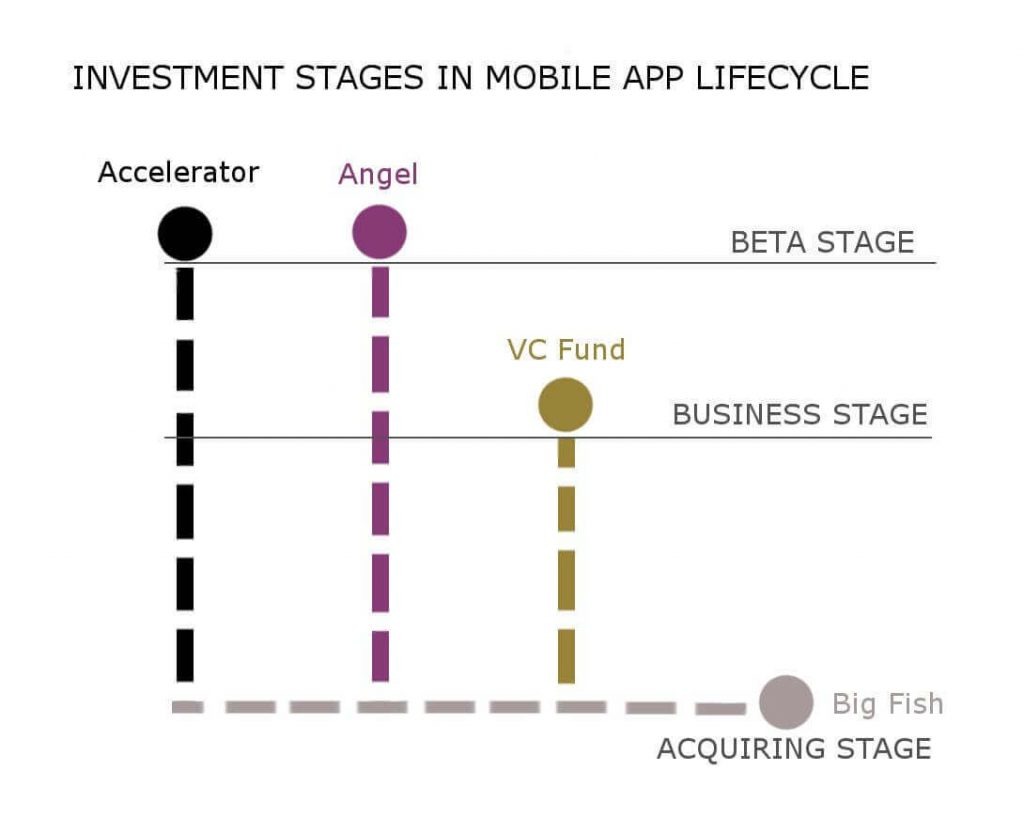 In Terms of Money
Previously we've talked about calls and promises of a project. Let's make it clear: a good promise isn't a humanitarian action. You don't need to save the world to obtain mobile app funding. In 2016 two health-oriented apps, DoseDR and MyChild were funded. The former (aimed at diabetics) got $120K, and the latter (tracks growth of kids and enables to detect developmental disorders) raised $100K in funding.
Was that a matter of investors?
No, MyChild got its 100 grand from 500Startups, VC and accelerator that funded Ripple. However, Ripple, the news app, raised $4M. There is no exact correlation between solving real problems and funding, and we're not sure if that's good or bad.
Which mobile apps get funded more often?
As investors want to keep their portfolio large and varied, you may get lucky even with a non-popular idea.
Spheres to find fundable and profitable mobile app ideas:
Finance. Example: Penny ($1.2M), Qapital ($6.6M), Tally ($15M);
Sharing music. Example: Anchor FM ($1.6M), Musical.ly ($100M);
Tourist experience. Example: Tourist Eye ($500K), Spot ($2M).
Investors
While incubator and accelerator experience often grants you some understanding on where to step further, some names in investment sphere still have to be highlighted.
500 Startups. Seed fund providing early-stage investment. It has a wide area of interest, so it's worth to contact them to get app funding. Successful projects can concern on $100,000 bill in exchange for 5% equity.
SV Angel. Relatively small VC fund that has raised about $146M. Heavily interested in management services. Operates mainly in San Francisco.
Y Combinator. The famous accelerator that provides $120,000 bill in exchange for 7% equity. It also participates in Series A and that's how highly social app Wakie has raised $3M for its AI searching appropriate people to talk with.
Broadway Angels. Family and health-oriented investment. However, their portfolio includes tech solutions as well.
Plug & Play Ventures. Their ample portfolio with lots of mobile products speaks for itself. Acts as VC, as well as an incubator for startups.
Sure, you can bet interpersonal communication and address directly to such investors: Ann Miura Ko, Bedy Yang, Dayna Grayson, Gil Penchina, Heidi Roizen, Jeremie Berrebi, Matt Ocko. If you're ready to dive into the depths of angel investment, feel free to browse AngelList, probably, the most inspirational platform nowadays.
Before You Run To Apply
There are hundreds of apps that were funded, but still, thousands that were rebuffed. First, have several things in common: a clear vision of development and competition, prospects of bootstrapping and enough patience to go further after first refusals.

Be strong!
Image source Flickr. Stash launches Stash in the Mobile Social category during DEMO Mobile at the Mission Bay Conference Center in San Francisco.