The San Francisco startup scene ranks #1 for the cloud ecosystem in the world according to Crozdesk, attracting nearly 39% of GLOBAL startup funding. If you have a startup or business and want to ramp-up your growth potential, applying to one of the Top Five San Francisco startup accelerators could be your best bet.
We recently took a look at how startup accelerators can pave the way for your first $100,000 in seed funding. Startup accelerators bring a lot to the table, including potential introductions to investors. And that's a damned good reason for you to focus on getting into the San Francisco startup scene, one way or the other.
Why apply to a startup accelerator in San Francisco?
In some respects, applying to a startup accelerator is a lot like applying to a college. Anyone can get into the local community college, but Harvard, Yale, Princeton? They only accept the best of the best. At least, they have that reputation. It's not just a matter of graduation from a prestigious school, but the potential of developing connections with prestigious alumni. Many cities do have incubator and accelerator programs, but you probably won't see a representative from Sequoia Capital at a Demo Day hosted in Lincoln, Nebraska.
San Francisco startup accelerators and programs can get you in front of, next to, and face-to-face with a wide range of high-value contacts. They may be your fellow classmates, their alumni, service providers, program administrators and investor group representatives. San Francisco is connected globally via the alumni of startup programs, unlike Maine where "you can't get they-ah from he-ah!" San Francisco's startup scene hosts over 40 co-working spaces, incubators, and accelerators, so you'll want to do your research to find the one that fits your startup best.
If You Can't Make it to San Francisco
Last year, in the course of researching investor and financial options far and wide, I spoke with Seth Isenberg, Senior International Investment Specialist at SelectUSA. SelectUSA is the U.S. Government's program to facilitate foreign direct investments in US companies, which amounted to a mere $3.1 trillion in 2016. It holds trade shows that bring U.S. companies face-to-face with international investors. When asked about San Francisco, Seth sort of laughed, "Silicon Valley is its own scene, most of the major investors and investment groups have their own offices and representatives keeping a close eye on everything happening there."
If you are looking for venture capital, you'll most likely have to go where the venture capitalists are. Are you in San Francisco? Excellent, you're already there!  But, if you can't get there, you still have access to your local incubators and accelerators. Your Demo Day in smaller markets may not have the full A-Z of who's who in VC. Nevertheless, SelectUSA programs and networking capabilities can help you after completing a local accelerator program as a springboard for getting in front of many of the same international investment groups.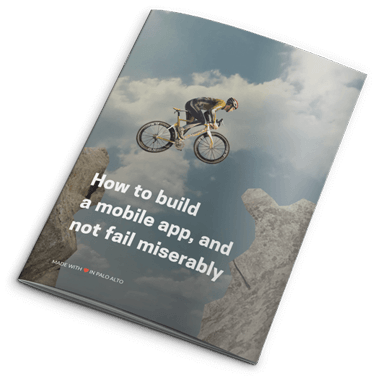 How to Build a Mobile App and Not Fail Miserably
Everything you need to know about building, launching, distributing, and monetizing a mobile application.
DOWNLOAD FREE EBOOK
Our Top Five San Francisco Startup Accelerators
Y-Combinator
AngelPad
500 Startups
Founders Space
Matter.VC
To be fair, we're going to give each a quick review, starting with Matter.VC and working our way to Y-Combinator. We've included links to Google Streetmaps for each of their offices, from which you can find convenient hotels, restaurants, and other services.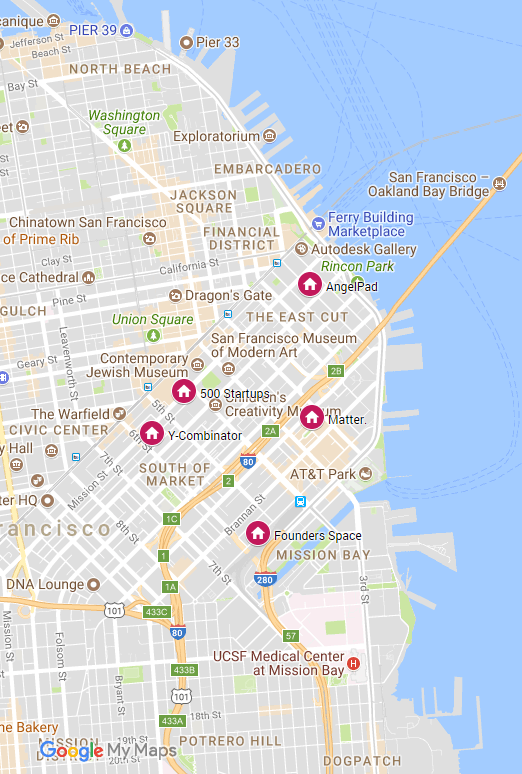 421 Bryant St, San Francisco, CA 94107 – Google Streetview
Focus: Media – "We're looking for scrappy entrepreneurs who are building the media platforms of the future."
Type: Accelerator
Pre-Seed Money: $50k cash + $75k to cover the costs of their accelerator services.
Equity: Unknown/Unverified
Program: 20 weeks
Offices: San Francisco and New York City
Number of Projects: 73
Notable Apps: Known, Nametag, Nuzzel
450 Townsend St, San Francisco, CA 94107 – Google Streetview
Focus: Something for Everyone, seeking unicorns and… Elephants that can fly.
Type: Co-working Space, Incubator/Accelerator
Pre-Seed Money: None or Unspecified, up to $100k worth of special offers from partners.
Equity: 5% or less
Program: Varied, 12 different programs including a 3-month online program to which you will have access for up to 2 years.
Offices: San Francisco with 50 partners in 22 countries
Number of Projects: 100's
Notable Apps: Instacart, Instagram, Twilio
814 Mission St, San Francisco, CA 94103 – Google Streetview
Focus: Diversity (very supportive of minorities) – "On a mission to discover and back the world's most talented entrepreneurs," with investments in over 60 countries.
Type: Accelerator
Pre-Seed Money: $150,000 ($112,500 after deduction of their $37,500 fee).
Equity: 6%
Program: 4 months
Offices: San Francisco and other international offices.
Number of Projects: Over 2000.
Notable Apps: Udemy, Remind, MyTime
135 Main St #850, San Francisco, CA 94105 – Google Streetview
Rated the Top U.S Accelerator by MIT's "The Seed Ranking Project" for 3 straight years.
Touted as the Anti-Y-Combinator – 1% acceptance rate.
Focus: Find awesome companies with founders we like to work with and spend three very intense months with them.
Type: Accelerator
Pre-Seed Money: $50,000 + $4,000 per founder
Equity: 6%
Program: 12 Weeks
Offices: San Francisco
Number of Projects: 130
Notable Apps: Buffer, Simplifeye, Truly
965 Mission St, San Francisco, CA 94103 – Google Streetview
Indiegogo shares the same address – double your potential with crowdfunding!
Focus: Open with a preference for any Pre-Series B, especially matching one of the 25 categories in their request for startups.
Type: Accelerator
Investment: $120,000 (no fee)
Equity: 7%
Program: 3 months
Offices: San Francisco
Number of Projects: 1,588
Notable Apps: Airbnb, Mystro, The Podcast App, (also Parse and TightDB – now Realm.io)
Special Details: Startup School – free, online 10 week course and massive YouTube channel.
Is a Trip to San Francisco on Your Horizon?
So, you just got word that you've been accepted by a startup accelerator in San Francisco? Cool! But, oops, you don't live within convenient driving distance of San Francisco! Don't fret, at least not yet. You will have to pay your way. Fortunately, most accelerators offering a cash injection permit you to use some of that money to cover your costs of living for the 3-4 months your physical presence is required for their program.
San Francisco is the third most expensive city in the United States, where the estimated cost of living for a single adult is over $3600 monthly.  So, make sure to start apartment shopping early, or check out the following resources:
And remember, we're only talking about San Francisco Startup Accelerators in this article. The United States features many more, and it's ill-advised to ignore them. It speaks for itself however, that on other guides San Francisco is always highly prominent…
Does Your Startup Need An App?
Designing and building apps for startups is one of our specialities, and we are experts in creating effective and quick MVPs for our clients. Being based nearby in Palo Alto helps, too. Click below to learn about why our MVP Development approach will help give you a better launch.