A look at medical application statistics and FDA requirements for innovators in healthcare and medicine. We look to answer one tough question – do you need a mobile medical application approval by the FDA? Is your app a medical device?
While not easy, development of mobile medical applications doesn't require you to be a major manufacturer of medical devices. Mobile apps and innovations by healthcare providers, insurance companies, individual physicians, make healthcare news on a regular basis – even Amazon.com is in on it. If you are involved in the healthcare market, you may have some ideas for mobile medical apps, too. The purpose of this article is to help steer you in the right direction with the US Food and Drug Administration (FDA) clearance for mobile medical apps.
What does the FDA have to do with mobile apps? Quite a lot when it comes to mobile medical application approval, specifically.
The FDA's mission is to protect the public health by assuring the safety, effectiveness, and security of the national food supply, drugs, biological products, cosmetics, and medical devices.
So, before going deeper into the need for FDA approval of medical applications, it's worthwhile to take a look at some numbers. Consider it a short exercise in why Amazon, a company with no involvement in the medical industry to date wants to jump in, too.
Healthcare and Mobile Medical App Statistics
The last major analysis of medical and healthcare related apps on Google Play and the App Store was conducted in June of 2015 by the Institute for Healthcare Informatics (IMS). As of September of 2017, the total number of apps on Google Play has since doubled, jumping from 1.6 to 3.3 million. For simplicity, we presume the number of mHealth apps also doubled, from 165,000 to 330,000.
IMI's data indicates that roughly 76% of these apps relate to fitness, lifestyle, diet and other non-specific categories. The balance, about 80,000, is closer to the definition of medical applications. These fit into five major categories:
Apps for specific diseases: ~ 35%
Apps for Women's healthcare and pregnancy: ~ 30%
Medication reminders and information: ~ 25%
Apps for insurance and healthcare providers: ~10%
The fifth type of mHealth app covers the range of non-commercial apps and apps for specific medical devices. No easily obtainable statistics exist for this category.
Thus, medical apps represent only 2-3% of the overall mobile app market. Remember, the US healthcare market represents 17% of GDP or $3 trillion annually. In contrast, games represent over 40% of the apps submitted to Google Play for a $110 billion global market. What if mobile applications could play a role in just 10% of the healthcare market?  They would still equate to 3x more than global mobile gaming, in the US alone.
Building a mobile medical application?
Get a consultation by world-class mobile designers and developers with a healthcare focus.
Given the greater technical resources, requirements, and standards associated with developing medical applications, the disparity in raw numbers comes as no surprise. First, there's the question of whether an application requires FDA approval. Secondly, virtually everything in the healthcare industry must meet Health Insurance Portability and Accountability (HIPAA) requirements, too.  Nevertheless, the disparity does underscore the relative lack of competition within the overall medical and healthcare application market.
Does my mobile medical app require FDA approval?
Just because you have an application intended for use within the overall healthcare market does not mean it is (or is not) a medical application.
So, how do you determine if you need mobile medical application approval by the FDA? The best place to start is with the FDA's latest guidance, issued in February of 2015.  "Mobile Medical Applications: Guidance for Industry and Food and Drug Administration Staff Document," this 45 page PDF covers a lot of ground.
We think there's one question that you can use to point you in the right direction:
Will your application be used on its own or with another device to monitor, analyze, diagnose, or treat patients or make use of patient-specific data involving any form of medical condition?
Yes, that's quite a mouthful. Even so, you should be able to answer with a yes, no or maybe. That's 90% likely to be your answer on whether you'll need FDA approval for your mobile product. But, let's dive a bit deeper to make sure and to take a look at what happens if you answered, "maybe."
Applications Requiring FDA Approval
Put simply, if the question uses any of the words you use to describe your app then odds (90+%) are, yes – it will need FDA clearance. Refer to Appendix C.
Your app monitors or analyzes patient data or patient-specific medical device data.
Example: an app that electronically amplifies and projects sounds associated with the heart, like an electronic stethoscope.
The app connects to and/or controls the operation, function or energy source of a medical device (or implant).
Example: an app used to calibrate hearing aids.
It turns a mobile platform into a regulated medical device that a licensed practitioner could use to diagnose or treat a medical condition.
Example: An app intended to display images for use in diagnostic reviews.
Who doesn't need mobile medical application approval by the FDA?
Will your applications be used for administrative functions, educational and training purposes, or generic aids?  Then no, you most likely (90+%) won't need FDA approval. Refer to Appendix A.
Provides access to electronic files of medical textbooks and reference materials.
Serves as educational tools for purposes of medical training.
Will be used by patients for educational purposes or to provide access to reference materials.
Automates general office functions.
Provides generic aids or general purpose products.
But, even if those don't require mobile medical application approval by the FDA, they still need to conform to HIPAA regulations for protecting patient data.
The Gray Area – FDA Enforcement Discretion
Call this the "maybe" category, applications with overlapping functionality that "may" fit the definition of being a medical device. A direct quote from Appendix B of the FDA guidance document describes this best:
This Appendix provides examples of mobile apps that MAY meet the definition of a medical device but for which FDA intends to exercise enforcement discretion. These mobile apps may be intended for use in the diagnosis of disease or other conditions, or in the cure, mitigation, treatment, or prevention of disease. Even though these mobile apps MAY meet the definition of medical device, FDA intends to exercise enforcement discretion for these mobile apps because they pose lower risk to the public.
Emphasis added. Basically, the FDA may choose to regulate apps if they pose a risk to the public. Thus, enforcement discretion enables the FDA to decide if and how to punish cases that have infringed on medical device laws.
Examples of applications drawn from Appendix B include (but are not remotely limited to):
Use a checklist of common signs and symptoms to provide a list of possible medical conditions and advice on when to consult a health care provider;
Enable a patient or caregiver to create and send general emergency notification to first responders;
Keep track of medications and provide user-configured reminders for improved medication adherence;
Mobile apps that transfer, store, convert formats, and display medical device data without modifying the data and do not control or alter the functions or parameters of any connected medical device.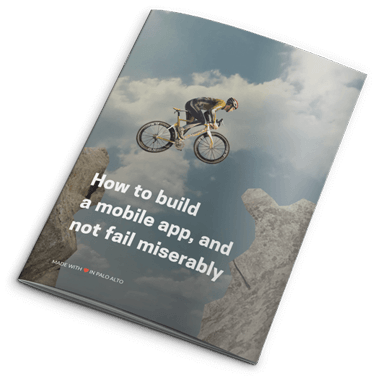 How to Build a Mobile App and Not Fail Miserably
Everything you need to know about building, launching, distributing, and monetizing a mobile app.
Download free eBook
Mobile Medical App Development Considerations
Enforcement Discretion sounds nebulous at face value. The key issue is the potential risk to the public. Regardless of whether your app needs FDA approval, it will need to meet HIPAA regulations for securing patient data. Taken together, we can easily see why there are far fewer developers in the medical application space. Medical application development must meet a much higher standard than expected of nearly any other kind of application.
Many apps serve multiple functions. If you are in the earliest stages of developing your idea for an app, consider starting with a Minimum Viable Product (MVP). Consequently, focus on supporting the one feature why physicians would recommend your app over others. You don't want to get drawn into supporting expensive and complicated features where HIPAA or the FDA may add yet more complexity.
Are you looking for a developer? Obviously, you will want to work with one having considerable experience producing medical applications.  Some medical applications from our own portfolio include:
 Qcare by PediaQ – an On-Demand App for Pediatric Care via mobile triage and house calls.
MyBreath by Breath  Research – a finalist at the UN Solve Conference.
VisiMobile Patient Monitoring System by Sotera Wireless (see the video):
Disclaimer: The information contained in this article is for general guidance only. Laws vary widely based on the specific facts. Laws, rules, and regulations also change, so there may be inaccuracies in this post. This article is presented with the understanding that Reinvently and its authors are not engaged in rendering legal advice. This article should not be used or construed as a substitute for a legal professional.