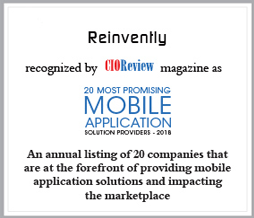 Reinvently is pleased to share that CIOReview has recognized us as one of its "20 Most Promising Mobile Application Solution Providers" for 2018. The magazine relied on a "distinguished panel comprising CEOs, CIOs, VCs, industry analysts and the editorial board of CIOReview" to help narrow its list.
CIOReview
In today's digital world, organizations need to respond to changes faster than ever. CIOReview serves that need as a leading technology magazine.  Their team helps to guide organizations toward today's leading innovators and innovations.  CIOReview showcases new tools, technologies and approaches. They provide a platform that enterprises can use to find new solutions to fit their needs without a lot of fuss.
Clutch and Customer Reviews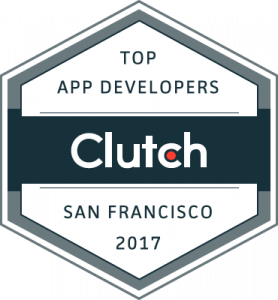 What others have to say about you weighs ten times more than what you have to say about yourself.  It applies even when you're an eight-year-old company like Reinvently. That's why we're also pleased to have made it into Clutch's Top 15 Developers in San Francisco in 2017 and 2018.  That's no small feat, considering a) there are over 150 developers in the area, and b) it's Silicon Valley.  It is always nice to be recognized!
But even more important is everything our clients have to say about us.  They've given us some truly outstanding reviews. You can read them all on Clutch.  The main point is that everyone at Reinvently is heavily focused on a proprietary process of working with clients.  It is a process that results in outstanding, smart and beautiful apps.  People love to use the apps we create, they win, and they get funded.
Smart and Beautiful Apps – that get Funded
Last year, MyBreath, the product we developed for BreathResearch, won additional support at MIT's Solve Conference, hosted by the United Nations. In May 2018, our client Nickson's CEO, Cameron Johnson, pitched his company at the "Rise of the Rest" tour in Dallas.  He won, beating 7 others to one very large check for $100,000 plus additional long-term support.  There's much more in the works.  Working hard to see our clients win is the name of the game.
So, again, we wish to thank CIOReview.  We're proud to be one of their Top 20 Most Promising Mobile Application Solution Providers for 2018.  If you are interested in more about mobile app design, please check out the different sections of our blog. If you'd like to talk with a professional about mobile design and development services, please contact us!