On May 7, if all goes well for Cameron Johnson, he'll be walking away with $100,000 from Steve Case's Revolution: Rise of the Rest tour and seed fund.  Cam is the founder of Nickson, a Dallas-based startup offering renters an innovative way to furnish and design their apartments on-demand.  Nickson will be competing against seven other startups, but there's potentially a lot more at stake than the prize money.  The winner will receive ongoing PR assistance, executive connections and the potential for additional investment funding.
LiveNickson.com provides a beautiful showcase of how effortlessly apartment hunters can have their next apartment transformed into a custom designed home that's ready the day they move in.  Once you find the perfect apartment and decide on a move-in day, simply take the simple online style quiz and Nickson takes care of the rest. Gone are the costs and hassles of moving and deciding how to set up your new rental. Want more benefits and convenience? Nickson also provides extensive concierge services, such as a household supply starter kit, maid service, and more.
Unlike many other startups, Cam initially worked with an in-house developer.  To improve on scalability, Cam chose Reinvently to develop the second MVP iteration of the LiveNickson e-commerce site.
An MBA graduate from Harvard Business School, Cam also has a BS in Hospitality:  Real Estate and Finance from Cornell.  After a distinguished career in real estate financing, including two years as an investment banker at Goldman Sachs, Cam saw a real problem in the way people moved and lived in rental units. Using his skill-set and entrepreneurial spirit, Nickson was born.
Back to the "Rise of the Rest competition: if Steve Case seems familiar, you may remember he was the co-founder and CEO of AOL.  Many readers may not remember quite that far back, but AOL is what many of us used long before the Internet had Wifi or Broadband connections – the days of dial-up modems.  Steve started Revolution LLC which backs the "Rise of the Rest" seed fund which has toured 33 cities since 2014.  And it should be no surprise for those who know that he's everywhere, Jeff Bezos is also a major investor in the "Rise of the Rest" fund. What do they look for in a winning start-up? Size of the opportunity, scalability, and strength of the team are just a few key facets.
Everyone at Reinvently would like to wish Cam and his team the very best as they go up against seven other startups for a $100,000 capital injection.  Stay tuned for upcoming articles on how start-ups, like Nickson, approach and use fundraising to scale their businesses!
UPDATE: Congratulations are in order – Cameron and the Nickson Team won the Rise of the Rest competition!   It always feels nice to win, but imagine how sweet it is to see a major startup fund pick your business from 7 others to win $100,000!  And that's not to mention the extra PR and additional opportunities.  Awesome!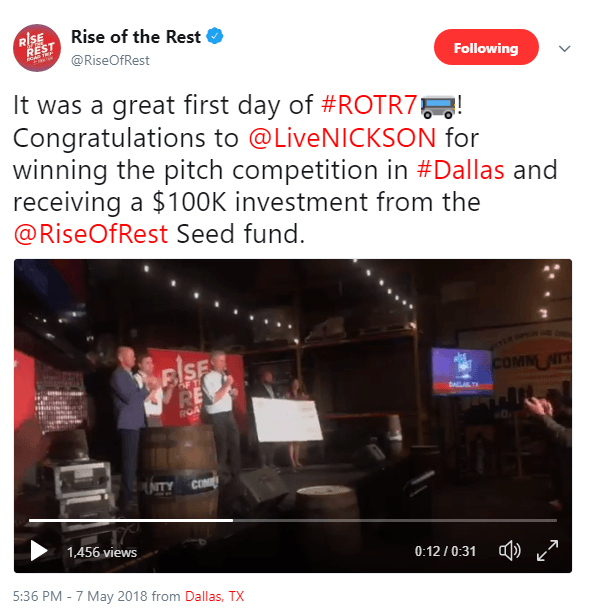 Additional Reading: