Spending on IoT is expected to top $1.2 Trillion by 2022 according to IDC's projections. Globally, we finished 2018 with roughly 7 billion digital devices while some estimates indicate we'll have over 75 billion IoT devices by 2025. More value can be derived from these statistics by defining more specific IoT app and device categories. IoT-Analytics recently took a look at The Ten Most Popular Types of IoT apps.
That's in line with what I'd expect from an IoT end-user perspective, but popularity doesn't always drive investment money. The projected market value of different IoT market segments can be very useful in focusing on (if you'll excuse the pun) where all the Smart Money is going. We've added some of the most likely business and monetization models to help you get some ideas percolating.
Here's a quick comparison of popularity vs projected market value:
The Ten Most Popular Types of Apps
Apps by Projected Market Value

Smart Homes
Wearables
Smart City
Smart Grid
Industrial Internet
Connected Cars
Internet of Medical Things
Smart Retail
Smart Supply Chain
Smart Farms

Industrial Internet
Internet of Medical Things
Connected Cars
Smart Homes
Smart Retail
Wearables
Smart Grid
Smart Supply Chain
Smart Farms
Smart City
Regular readers of our blog know that I have a slight tendency to rag hard about how Amazon.com's a threat to many businesses. Amazon has actively invested in four of these IoT segments, and passively invested a further 3-4 of them. Watch what Amazon and other large, successful, growing business are doing. Then try to do what they can't by moving faster and being more tactical and tactful with your customers and local community.
1. Industrial Internet Apps – $933 Billion by 2025
Heavy hitting apps of this sort are often referenced in connection with the Industrial Internet of Things (IIoT) and Industry 4.0. They revolutionize factory production, warehousing, fleet management and more, through the power of automation. Amazon paid $775 million for Kiva Robotics in 2012, and as of his year has over 100,000 robots working in its facilities. In some cases, one machine performs in 15 minutes what a human worker can do in an hour. Foxconn, at one point a company employing over one million people, has set a goal of automating 80% of its jobs. Grand View Research projects the IIoT market will exceed $933 billion by 2025. Moreover, IBM believes IIoT will boost global productivity by $11 trillion by 2024.
Potential Business Cases:
Cost reduction and reduced labor
Increased production and efficiency
Reduced downtime and improved safety
2. Connected Health – $158 Billion by 2022
Telemedicine and the Internet of Medical Things (IoMT) make it possible for physicians and trained medical staff to have virtually continuous "eyes on" their patient's vital signs. The VisiMobile system we developed for Sotera Wireless makes it so hospital doctors begin receiving patient data the moment a first responder arrives. Over half a million different types of devices are already produced by Medtech companies like external medical wearables (skin patches and blood glucose monitors), implants such as pacemakers and defibrillators, to home monitoring devices. Together, they work to save lives, improve quality of life, and reduce healthcare costs. MarketsandMarkets expects the IoMT Market to reach $158.1 billion in 2022.
Potential Business Cases:
Cost-savings in an increasingly value-based market
Defending against the competition
Data monetization
3. Connected Cars – $156 Billion by 2022
We can go in all kinds of directions with connected cars (they could be but are not necessarily synonymous with autonomous vehicles). Connected cars are able to communicate with each other and local infrastructure to reduce congestion, improve safety, and easily get everyone where they need to go. Apps like Dash and Zubie make it easier to find the cheapest gas station or repair shop nearest to you & log trips, while also offering real-time car monitoring.
On the other side of the market, Uber launched in 2009 and spawned… a lot of other Apps like Uber. The rideshareguy estimates Uber as having about 3 million drivers worldwide, translating to four times more cars than Enterprise Holdings, the world's largest car rental company. That considered Uber wanting to make a world with driverless cars isn't so far fetched. PwC indicates the Automotive IoT Market could reach nearly $156 billion by 2022.
Potential Business Cases:
Digital service provider or enabler
The scalability of on-demand
Data monetization
4. Smart Homes – $150 billion by 2024
Smart Home systems harness all of your home's connected devices. As of January 2019, Amazon has sold over 100 million Alexa-enabled systems. An estimated 52 million Google Assistant devices have also been sold. That's the proverbial tip of the iceberg considering just how many IoT devices work with Alexa and Google Assistant. One of the biggest players in the Smart Home market is Nest with their line of thermostats, cameras, doorbells, locks and alarm systems. Add Sonos Smart Speakers, the next line of Samsung TVs, plus Alexa-enabled refrigerators, microwaves, mirrors and even… freakin' toilets. Some estimates predict the Smart Home market will reach over $150 billion by 2024.
Potential Business Cases:
User data monetization
Sales channel
Subscription and bundled services
5. Smart Retail – $94.5 billion in 2025
If you want to see the future of smart stores, check out Amazon Go. Walk in, pick up what you want, walk out. Sensors throughout the store track everything a customer picks up and charges it to their Amazon smart wallet as they leave the store. No waiting lines, no cashiers. The hardware for the first Amazon Go is believed to have cost $1 million. Amazon drops costs by ramping up its economy of scale. Smart stores like Amazon Go reduce long-term labor costs and make shopping easier for customers while accumulating lots of data about individual purchasing habits.
We've talked about Amazon's multi-pronged threat to retailers since long-before Amazon Go's launch. Now, Amazon has plans for 3,000. If you know how Bezos thinks at all, you'd also expect Amazon Go to be the prototype for its Wholefoods stores. Some, like ex-Walmart exec Joel Larson, argue Amazon won't win in Retail. Bezos will find a way. Amazon's been winning in one category after another since its launch, including picking up over 50% of all US online sales. Grandview Research projects Smart Retail as having a market size of about $94.5 billion in 2025 (up from $16.4 billion in 2016).
Potential Business Cases:
Cost reduction
Competitive advantage
Customer data
IoT Wearables – $51.5 billion by 2022
Google Glass is but one of many snowballs thrown in the hopes it'd cause an avalanche. Add FitBit activity trackers, Casio smartwatches, dog collars to improve canine cognitive skills and…
Smart diapers. Yes, there's something for everyone! What's important to know about IoT Wearables are the different types of sensors they use to collect data – like gyroscopes, accelerometers, temperature sensors, altimeters, proximity, and biochemical sensors. MarketsandMarkets indicates the Wearables Market could reach over $51.5 billion by 2022. The Wearable Technology Summit of 2019 went on to showcase new wearables to watch for in 2020 including wearable payment systems (like the Icare ring or purewrist bracelet).
Potential Business Cases:
Sales of IoT products
User data monetization
"Device as a Service" or subscription model
Smart Grids – $60 Billion by 2024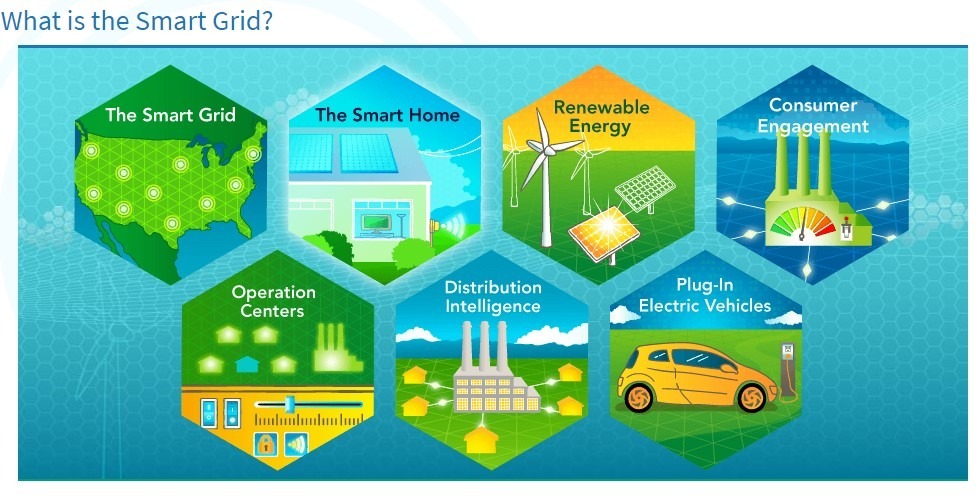 Image courtesy of SmartGrid.gov
Available for homes, enterprises and electric utility networks, smart grids automate the management of electricity. Smart grid apps and sensors interact with smart meters, appliances and energy resources to conserve energy and reduce costs. SmartGrid.gov and the US Department of Energy are critical smart grid education resources and sometimes have special funding opportunities. The smart grid market is incentivized by the US and most European governments, with projections of reaching $60 billion in 2024 by Zion Market Research.
Potential Business Cases:
Cost reduction
Data monetization
8. Smart Supply Chain
Companies on-board with Industry 4.0 are often engaged in getting a digital view of "everything"- where it is, where it is going, how and when it will get there, and even who's delivering it. Apps like Eazystock provide powerful inventory management and optimization for wholesalers, distributors and manufacturers, covering demand forecasting over multiple locations. Smart Supply Chain apps are instrumental in increasing communication and collaboration between suppliers and vendors, dynamic real-time tracking of shipments and more. Gartner Research predicts the SCM Market will exceed $19 billion by 2021.
Potential Business Cases:
Reduced spoilage
Faster inventory turnover
Better contract management
9. Smart Farming – $18 Billion by 2025
John Deere, Wells Fargo, Archer Daniel Midlands, Cargill, Krone among others are major players in aspects of Big Agri. They are also involved in Precision Farming and creating amazing IoT applications. Data from Smart Farming apps allow farmers to compare and track optimal fertilizer usage to crop yields, with weather and soil conditions. Apps like AkreScout and Pocket Drone Control make it easy to use high-resolution images, drones and sensors to analyze crop and soil health, growth and damage caused by pests or disease. Of all the Smart Farm videos, the video by SAP (below) provides the best dynamic representation of how fully-integrated systems work with Krone. One example is how sensors can detect pests and direct drones to automatically unleash their natural enemies. Grandview Research projects the Smart Farm Market reaching a value of $18.2 Billion by 2025.
Potential Business Cases:
Increased production
Increased sustainability
Decreased damage due to pests and weather
10. Smart City Apps – $2.4 Billion by 2025
On one level, smart city apps are like eyes-in-the-sky – by tracking parking, traffic, pollution and weather analytics for consumers. On another, they provide smart street lighting, greenhouse emissions tracking, and waste management support for city managers. Toyota, just one of several automotive manufacturers, has been selling traffic data as a service to city and municipal planners since 2013. The Smart City market topped $500 million in 2017 and is expected to reach $2.4 billion by 2025, coming in last because it has trickier monetization options compared to its Smart Grid counterparts.
Potential Business Cases:
Data as a service or subscription model
Monetize data and analytics
Advertising
If You Knew 10 Years Ago…
We often lament about what we could do with our current knowledge if we knew it ten years ago. Imagine being able to go back further and invest in Microsoft, Amazon, Apple, Google, or Facebook… before they did their IPO. There's no guarantee that any of these markets will realize their predicted values – because, like you know, next Winter could bring a Zombie Apocalypse… or something. Most of the companies that have been making use of IoT's Big Data have only been getting bigger, and making use of even more data – to create AI systems capable of predicting (and even manipulating) the future.