Once you decide you need to have an app built, getting a mobile app cost estimate is the next step. Otherwise, you may start something you can't complete because it ends up costing more than you expected. Now, how do you go about determining the cost of a mobile app?
Knowledge is power.
For mobile app estimations, you'll most likely turn to agencies you should have shortlisted. Some of them will offer free quotes and estimates for the development cost; some others will offer the estimation into paid service packages.
Full disclosure: as someone who's a part of a mobile product agency, I may sound a bit biased. But don't get me wrong here: both free and paid estimations may be good and bad. There's no silver bullet here.
A cost or budget without basis is just like a strategy without statistics – mere guesswork. In some cases, free quotes may lack the depth and precision of paid software estimates.
Why?
Because calculating the cost of a mobile app is no easy task with a whole team of professionals involved.
Let's count on the fingers:
Business analyst(s)
Project manager
Designer(s)
Developer(s) or tech adviser(s) (especially of there are complex and/or 'exotic' technologies involved in the project)
There you go. That's at least 4 people.
The truth is: high-class professionals charge for the time devoted to estimating your mobile project. And that returns tenfold. For a small fraction of the cost of the actual mobile product, you can be confident that your app will be developed on a timely basis, on budget, and perform as intended in meeting your business goals.
Moreover, you will have the basis to monitor its development so that it complies with these objectives.
That said, let's move on to how the software project cost estimation process works.
How is a mobile app cost estimate done?
How a mobile app cost estimate is done may seem arcane to the uninitiated. For an experienced development team, it is a refined, almost scientific process stemming from repeated efforts. We define app estimation as a seven-step process.

Get mobile app design and development consulting and detailed pricing for your project. Just fill the form (takes 10 seconds)→
A mobile app development project appraisal includes a complete process which focuses first on all of the functions, modules, and components a prospective app will need to fulfill its business objectives. If those are not carefully defined before development starts the chances for delays, cost and schedule overruns, or missing a vital component is increased considerably.
Step 1. Where's the Pain?
Your input:
You will need to explain to a business analyst the problem that needs solved and define desired outcomes.
The success of your mobile app project starts here.
Some questions you may hear:
What are the challenges to your business?
What are the goals for your mobile app?
If you have a tech person (CTO/Head of Engineering or even a developer) and/or a marketer in your staff – great! Definitely, bring them in. The agency business analyst may call upon technical, marketing, sales, and executives to sit in, too.
At this stage, the agency mostly listens and ask questions.
Step 2. The Anatomy of an App
Your input: our business analyst walks you through the anatomy of your app to define the required modules and components.
Defining problems helps identify solutions. The second stage to get your mobile app cost estimate involves deconstructing the overall idea into its component parts.
Instead of bones, muscles and nerve endings, mobile apps can include a dashboard, a news feed, a storefront, a payment system, and possibly many other things. Because all of these things have been used to create other apps, an experienced team is able to define the cost for each component.
Step 3. Work Breakdown Structure
Based upon everything you've told, the business analyst prepares a document for you that:
Describes the app, its purpose, and goals;
Identifies the individual modules and components;
Details the sequence in which the components will be developed;
Identifies the technologies that will be used.
You will likely have lots of questions. And that's just fine. A good team will leave no stone unturned, no question unanswered.
The fewer unknowns – the lesser risk.
The team should also let you know how the mobile app cost estimate will work moving forward.
Recommended for you: Hiring a Mobile Agency: 8 Questions to Ask Right Away
Step 4. Pre-Ops – The Storyboard
Having reached an agreement on everything your app will involve, this is where we can start to show you what it will look like. This starts with showing you how all of the components fit together through a storyboard, also known as a wireframe that works like a blueprint for mobile apps.
That's a sequence of screens starting with the login and proceeding to each function in a logical and hierarchical order. It may include a personal dashboard, a page for users to define feed settings, for social sharing, hierarchical navigation of stores by category and product, etc.
Here's what it looks like.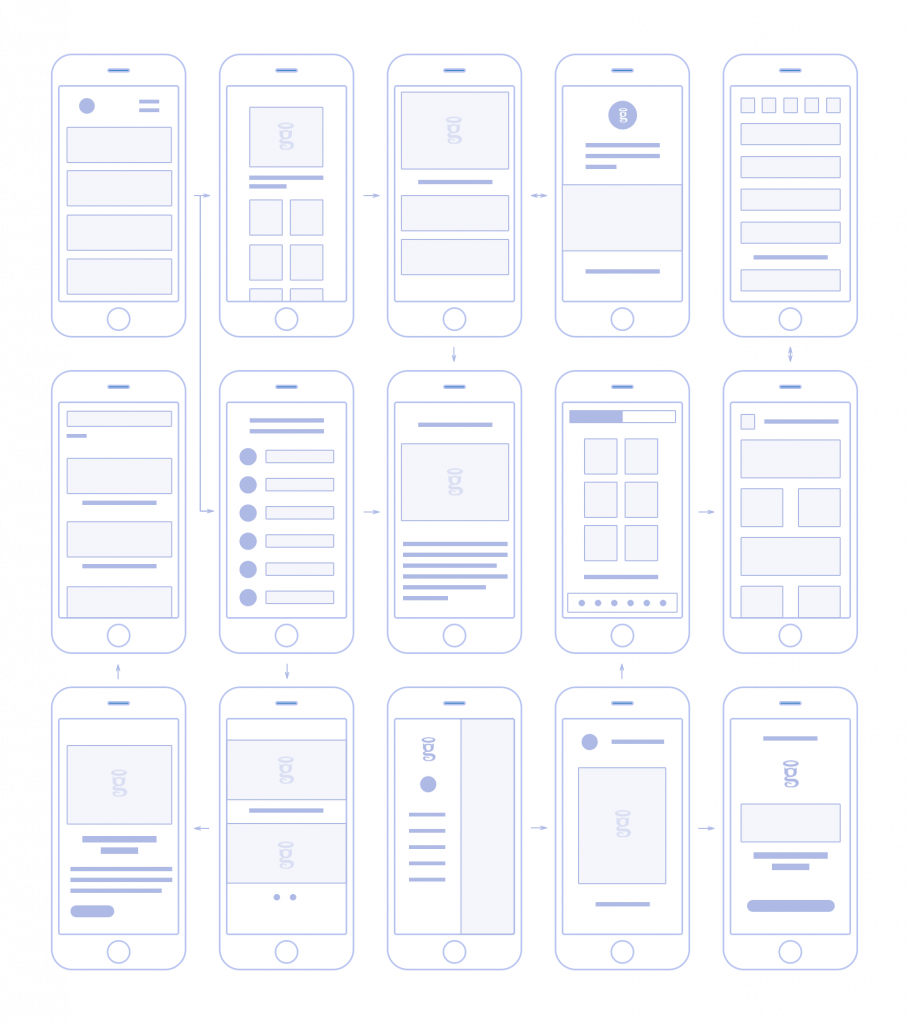 In addition to you and the agency's business analyst, all stakeholders, the designer, and the developer should be on hand to discuss the storyboard and to make revisions to it. All further work on the app depends on your approval on the blueprint.
Step 5. Attribution – Effort Estimation
At this point, you both know everything that will be involved – and you can start calculating the effort it will involve. This is a full-team effort on the provider's part to define based on previous experience and your specifications.
This defines how much work will be needed for each individual component, fit them all together and test them to make sure they work as intended.
Step 6. The Schedule – Milestones and Timelines
Some things may need to be completed before other things can start. The final product here is a date by which the app will be complete, the deadline.
Sometimes, you will tell us the deadline and your mobile development agency will need to construct our schedule accordingly. Either way, we both need to have something by which we can measure progress and make sure the application is delivered on schedule.
You've probably seen this before, often, the schedule will take the form of a Gantt Chart: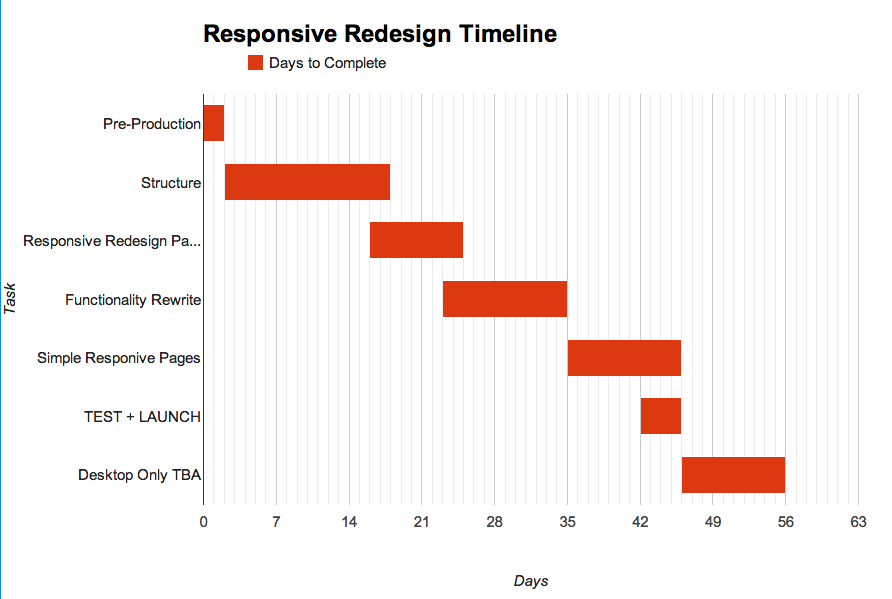 Step 7. The Mobile App Cost Estimate
All of this brings us to the Money-Time-Scope (MTS) Triangle. You're presented this document – clearly defining what will be in your application, how long it will take to develop it, and how much it will cost.
This is based entirely on what you've discussed, defined and approved by you, each step of the way. Only with your approval can development begin.
But, what happens if the cost is too high? Or, what if you would like an app to be completed faster than your development company estimated? It is also possible that there is room in between our estimate and your budget to possibly add more features to your app.
The Money-Time-Scope Triangle provides us the basis to revise an estimate to better suit your parameters. By reducing the scope of the app (components, features, and functions), you can reduce the cost and time to complete it.
The MTS Triangle can also be used in conjunction with an approach to creating a Minimum Viable Product by trimming out all of the features that don't help you acquire information from customers or support the core function of your app.
Recommended for you: How Much Does it Cost to Design a Mobile App?
Step 8. Interactive Due Diligence
As we've illustrated, getting an estimate for your app must be an interactive process to take your idea and make it into a mobile application that will help your business. To work, it needs to go step by step, each feeds into the next step and into the final equation.
You don't want any guesswork here, seriously.
This is an exercise in due diligence which should be performed with any investment, that is unless you are just looking to gamble.
If you are looking at a mobile application to help your business in any way, your mobile app cost estimate is an investment.  It gives you a detailed specification of everything that will go into your app.  You can use this to compare against estimates from other developers. Plus, you can properly budget for its development and make a more informed decision regarding its prospective ROI potential.