So, you own a business and want to know, "How much does it cost to develop an app?" and "What influences app development costs?"
That's one of the most common questions our customers ask us. Even after six years of building smart mobile products, it is still one of the hardest questions to answer. Just like if you wanted to buy a home, you would get very different price ranges for a run-down house in Detroit or a manor in Beverly Hills. App development costs cover many variables.
Because of that, a reliable and trustworthy answer can only be given after a professional mobile app cost estimation. Check that out, we've described the whole estimation process step-by-step. Anything else is a ballpark figure, at best. Such a loose estimate still helps early stage due diligence in forming realistic expectations. Knowing the variables involved goes a long way toward getting the most out of your investment.
TLDR: Because there are so many different variables, the price for a mobile app could range anywhere from $5,000 to $500,000; however, the price range for a quality mobile product, from our experience, runs between $100,000 and $400,000. Consider your priorities, business goals, and overall product strategy for a sensible investment.

Get mobile app design and development consulting and detailed pricing for your project. Just fill the form (takes 10 seconds)→
Bootstrapping and DIY App Development
An app costing between $100,000 and $400,000 exceeds the budgets of 80+% of small businesses. But, this doesn't completely leave "micro businesses" in the dark.
If you are bootstrapping, you will probably start with a Do It Yourself (DIY) online app builder or drag-n-drop app constructor. Typically, these have basic functions, generic look-n-feel, nominal security and work for a narrow range of devices. Even so, it could provide enough lift to take your business to the next level. In this direction, Understanding Minimum Viable Product is definitely worth your time.
Your other option? Developing your app as you would a startup. While beyond the scope of this article, the On-Demand section of our blog contains many ideas and examples to consider.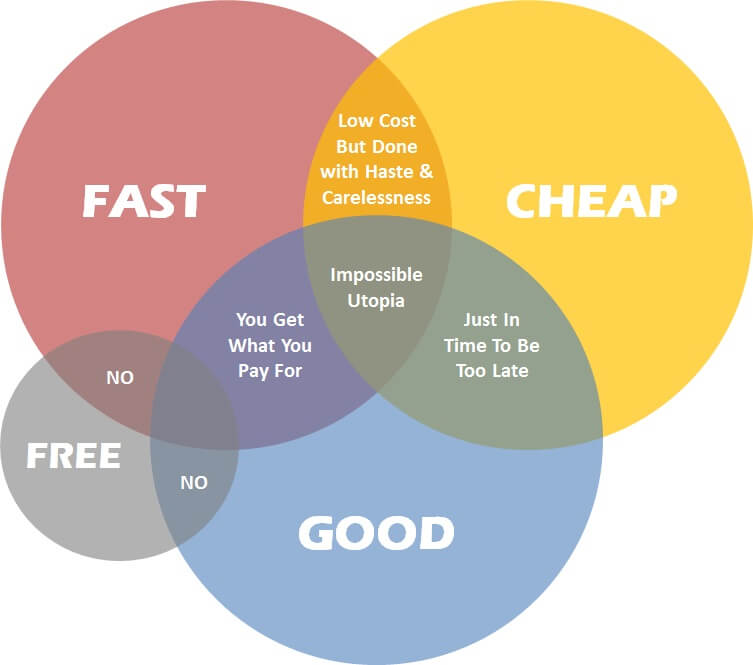 Who Will Develop Your App? 
Basically, you have three types of developers when it comes to developing your app. There are always exceptions, but from least to most expensive, they are:
Freelance app developers
App development agencies
An internal development team
There's a saying in the software industry: "Good. Fast. Cheap. Pick two." In all cases, unless you do your due diligence, you'll be lucky to only get one. How to Choose the Perfect Mobile Agency provides tips on questions to ask in building your short list. While it focuses on questions for mobile development agencies, much the same applies freelancers and direct hires.
We'll come back to whether you should look for a freelancer, app development agency or hire your own team after examining factors associated with your app development costs.  How much work your app will need, its complexity and other components will guide your decision.
Impact of Location the Cost to Develop an App
We can't pin costs or wages to developers of any sort without asking about their location. Cost of living, purchasing power parity, the labor market, costs of doing business, taxes and other factors all play a factor. The location of your developer is likely to have the #1 greatest impact on your app development costs and the #2 greatest impact on the quality you can expect.
The following details average hourly rates for developers as September, 2017:
Developer / Region

Typical Freelancer
Hourly Rate
Average Agency
Hourly Rate
High End Agency
Hourly Rate
United States
 up to $150
 $150
$250
 Eastern Europe
 $30
 $35
 $150
 Western Europe
 $45
 $75
 $175
 Asia
 $10-15
$30
 $75
As you can see, there's quite a difference in hourly rates. Of course, this doesn't mean a whole lot if it takes someone five hours to do the work someone with more skill and experience can do in one hour.
Approximating App Development Costs
An experienced app development and design team, however, should be able to provide you a good approximation of how much time it will take to develop your app. The process of doing that involves a decomposition or deconstruction to identify each component your app will require and each technology it will use. You'll find the deconstruction process in the earlier article for getting a professional app cost estimate.
The following chart provides a decent reference to approximate the minimum time to expect for simple, average and complex apps.
The hours spent on simple vs complex apps explains why there can be such a dramatic variance in the cost of building apps. Given the hourly rates above, the wireframe, UI and UX for a complex app could run anywhere from $5,500 to $125,000. That in no way says they'll be equal in appearance, quality or performance.
Scale of the app development project
Naturally, the more analysis, efforts, and integration with other software required – the greater your app development costs will get. Creating complex client-server architecture for an app like Uber will substantially affect development time and cost. Concurrently, limiting your app to the latest versions of Android or iOS will substantially cut the cost. This, however, requires more expenses with bug fixing and app optimization in the long run.
Also, not part of app development directly, remember server costs can add up. Anticipate $1 to $2k a month per 100,000 customers using your app. We will look to cover this in more detail in the future.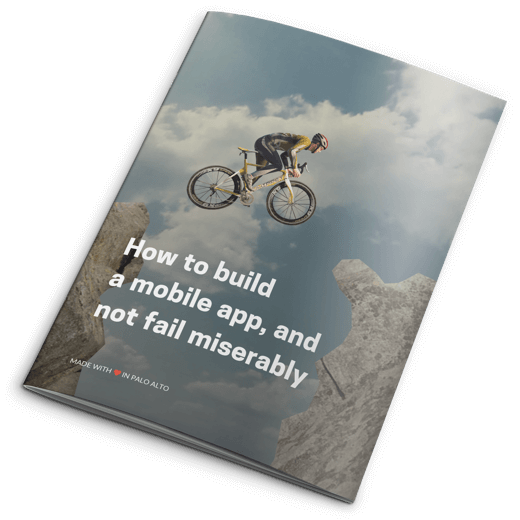 How to Build a Mobile App and Not Fail Miserably
Everything you need to know about developing, launching, distributing, and monetizing a mobile app for your business
download free ebook
Native app or cross-platform?
If you tend to create a winning mobile app with a business focus, you should be ready to invest in mobile UI/UX. Some app development studios may charge you extra for your app design and graphics, so make sure to partner with one that includes design costs in the project estimate!
Your future development partner should ideally have expertise with both user interface design AND user experience development. However, you're free to turn to a number of different providers for those two services.
Recommended for you: Cross-platform Mobile Development: Advantages and Risks
Write once – run everywhere does not always work. Don't expect to get a double economy from that. There are a number of cross-platform tools using various languages and technologies like the HTML5-based PhoneGap and Ionic, C#-based Unity and Xamarin, C++ based Cocos2DX, and the new RubyMotion based on Ruby.
At Reinvently, we have a methodology on this: if 50% of your project is UI you want to look native – use native SDKs. Otherwise (>50% of business logic, complex calculations, game engines) – go cross-platform. Developing two native apps equates to 2x the cost to develop an app. Making the same app cross-platform ideally gives you only 1.5x cost, which is an economy of 0.5x, not 2x.
App Localization
App Localization makes your app available in more than one language. This, too, increases your app development costs. Only 7% of the world's population speaks English natively. Each language adds to the cost of your app while expanding your potential audience. Chinese, Hindi, Spanish, Portuguese and German also have very large native and second-language populations.
Beyond translations, each language brings with it a variety of UI and UX issues of its own. Each language in the same "family" can be expected to add up to 30% of the app's cost. Some languages are read from right to left – these can potentially add 60% or more. For more details, see our Guide to App Localization because it involves a lot more than just translating text.
Development agency, internal team or freelancers?
Having covered the cost-related factors and components of mobile app development, it's worth returning to who you want to develop your app. Regardless of whether you decide on hiring an agency, an internal team or rely on freelancers, careful vetting is required. Ask questions, examine their portfolio, check with their references, compare their skills and experience with how they match what your app needs.
Freelancers
If you have a decent level of tech knowledge and can control all the processes and workflow – hiring freelancers could be viable. Experienced developers are in great demand worldwide. Some top-notch developers want the freedom that comes from being their own boss or the convenience of working from home. However, just as many or more developers are still learning to be polite about it – backed up by up to 90% of mobile apps being used only once before getting abandoned.  As with all business dealings, weigh the risks with the rewards.
Development Agencies
Partnering with a professional mobile app development agencie will give you an edge in experience and skill faster than you can acquire it otherwise. Professional agencies offer much stronger guarantees of project completion and have a vested interest in the success of your app. They also keep you safe from copyright violations and software licenses your app may require. Mobile development agencies also cover the whole lifecycle of mobile development.
Outstaffing
Outstaffingis somewhat similar to freelancers with the pleasant exception that your developer will not abruptly leave the project to have a six-month-long vacation at Goa. This guarantee will cost you 2x what you'd pay to a freelancer. The reason is that you pay a company fee, ensuring top-notch infrastructure, processes, retention, and much more.
Project-based work
Your pricing still depends on the hourly rate of the professionals working on your project at any given stage. The company is responsible for every process from design through wireframing and prototyping all the way to development, QA and bug fixing. An app like Tinder would cost you around $15-20k in India, $35-50k in Europe, and $100k+ in the US. That's just for a clone, without all the backend magic and app architecture.
Hiring an Internal Team
If ready to commit to a long-term development program, hiring your own team could be the way to go. By far the most expensive option, finding and competing for talented developers also makes hiring an internal team the slowest to become fully operational. Beyond salaries and benefits, you're also on the hook for acquiring their computers, software, workspace, and other essentials. There are cases where this could still make sense, but probably not for any business just looking to produce one or even several apps – unless you also want to be in the software and mobile development market.
Have a mobile-first startup?
Get consulted by leading business analysts, UI/UX designers, and mobile developers and make your idea come true!
The Cost of an App as an Investment for SMB's
Small-Medium Businesses (SMB's) typically have 10-250 employees with revenues up to $50 million yearly. This is where growth-oriented companies find mobile opportunities quite attractive compared to other options. The cost of building an app can be compared against opening a new office or launching a major advertising or public relations campaign.
Citing that $100,000 to $400,000 again as the cost range for developing an app makes for a good comparison to opening a new store or office. In Can Your Business Do On-Demand?, we used a simplified example:
Average office expenses run $50k per year. Each office has four employees with salaries totaling $150k per year. Base costs for one city = $200k; $1 million for five cities.
For many businesses, that's very conservative – but excellent for perspective. Proper due diligence could cut your app development costs in half. The savings alone could be enough to open a new store!
Investing in Scaling Up and Automation
App development costs sound expensive until placed in proper context and having something to compare against. There are many reasons why you would want to build a mobile app for your business. The ability to see exponential growth or automate time-consuming tasks are two very good cases.
We like to use the costs of offices as an example because one of our specialties is in the On-Demand style apps – also known as "Uber for X" style apps. The On-Demand business model is based on the notion that Access is better than Ownership. An On-Demand App makes it possible for you to work with "local" service providers. On-Demand app development costs are roughly the same whether you intend to service a dozen cities or a hundred.