Synopsis:  Most often, its entrepreneurs (and appreneurs) finding new ways to do business in today's increasingly mobile-driven economy.  But, some of you who already have businesses are also looking to scale up faster or explore different paths, too.  This article serves as a basic primer into what On-Demand is and how it works – but make sure to follow up with the recommended reading at the bottom, too.
Have you been hearing a lot about "apps like Uber" or the "On Demand" market?  If so, that's good, you're paying attention to changes and innovation with the rise of mobile apps and devices. You are likely to hear even more about them throughout 2017.  Maybe, you are already curious about whether tapping into the On Demand market could be good for your business?
Let's explore!
First off, what exactly is On Demand?
For the customer, it means receiving what they want, when they want it, often almost immediately. For the business, it means delivering the ultimate experience in customer convenience.
How does On Demand work?
Like a taxi service, basically. Customers contact a business to schedule an order via a mobile app, website or even a phone call.  The business then assigns the order for delivery according to criteria like agent availability, travel distance, inventory on-hand or service qualifications. It's the seamless integration of all these things that is the real trick.
Over 70% of Americans have a smartphone and 85% of their time is spent on their apps, not browsing online.  This amounts to an average of 3 hours per day. This is the core difference between a website and a mobile app – your business is available to your customers even when they are offline.
Who else uses On Demand besides taxi services?
Setting aside Uber and Lyft, you'll find On Demand used by plumbers, electricians, road-side auto services, even flower delivery services, but some more specific examples include:
The Wedding Wagon for On Demand marriage services in Las Vegas even appeared on an episode of ABC's "SharkTank."  That's a good example of a service that works best for being location-specific.  Then there's NetFlix, which works everywhere you can access the Internet.
These are just a few examples and more are popping up every day.
Check out our updated list of on-demand services that rock the shared economy!
What benefits can I expect to see with an On-Demand app?
As the principal party, where you developed the app, your core benefits involve scalability via expanded market reach for increasing your total business revenue.  It is especially useful for traditional brick-n-mortar businesses.
Your market is less dependent on having physical points of presence.
By working with others, you can avoid the costs of opening additional storefronts.
You avoid salary requirements by relying upon agents on an "as needed" basis.
You increase your revenue via commissions on services/products delivered by your agents.
Compare Against the Cost of New Stores or Offices
Let's say you have an existing, profitable office or storefront in Dallas, Texas.
You could choose to open another location in Houston, Austin, San Antonio, El Paso or Corpus Christi.  Each office will add to your monthly salary and overhead expenses but give you expanded reach, city by city.
Example:  Average office expenses run $50k per year. Each office has four employees with salaries totaling $150k per year.  Base costs for one city = $200k; $1 million for five cities.
Alternatively, you could invest in a mobile app that would enable you to cover potentially all of those cities.  It is a significant upfront investment, but with radically reduced monthly expenses.
Example:  An "App like Uber" for iOS and Android might cost you around $150k to develop.  You might train or expand the duties of two of your employees to manage its operations, or perhaps hire an IT person for $50k per year.  Your cost, whether you expand to only one city or all five, would run $150k once and then perhaps $50k per year.
How can I know if On Demand would work for my business?
Every business is unique, but there are some characteristics common to most successful On Demand applications:
1. Demand
Is there enough customer demand for what your business offers? That's the #1 thing to ask and it can vary geographically and by demographics. Demand for what you do will play a major role in realizing a return on your investment.
2. Easier
Can you make what your business does easier and more convenient for your customers? This can be a key point for brick-n-mortar establishments, where customers normally have to go to you. But if you can go to them…
3. Mobile
Can you bring what you do or have to the customer? This works very well for many skill-based professions and portable products. Products add to logistical requirements which must be factored in.
4. Agents
You need people you can trust or… drones that work and don't crash (often). You have several options: hire more people, work with independent contractors or other businesses. Concurrently, you need to make sure your "agents" are professional – able to perform according to your standards and specifications.
5. Net
Net Margins – after all costs are factored, is it still profitable? This will make or break you, so a thorough review of your numbers is critical. Convenience is a commodity, so it should be factored into your pricing – hand in hand with demand.
6. Due Diligence
Ask lots of questions. Avoid concluding, "This is a great idea, let's make it work!" It is only a great idea if people want to buy or use it in a way that is profitable for you. For this reason, we strongly recommend starting off with a "Minimum Viable Product" because:
a) it asks critical questions early,
b) it affords the potential to start making money from your idea before you have a finished product, and
c) it provides you customer feedback that you can use to steadily improve upon your product and profitability.
Is it too late to start work on a mobile app for your business?
Not at all. As Gary Vaynerchuk aptly put it: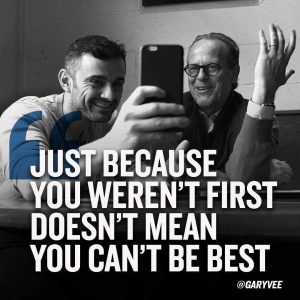 Over 50 million businesses throughout the EU and USA. About 4 million apps publicly available on Google Play, the App Store, etc.
Ultimately, it bears out that less than 2% of all businesses have a mobile app that is actually performing.  The critical point here is that over 90% of Fortune 500 companies do have apps – and most are performing well.
Mobile apps inherently benefit from economy scale while at the same time are the easiest way to actually build an economy of scale. Quite simply, in today's world, Access is better than Ownership.
Recommended Reading